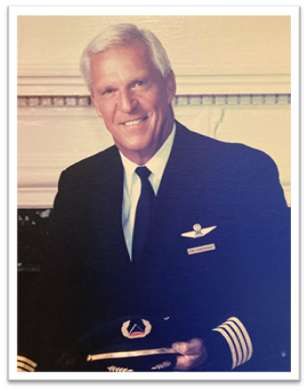 Board Member - Tom Vanderhorst, Retired Navy Officer,  graduated from The Ohio State University in 1965.  He served in the U.S. Navy from 1966-1971 where he graduated from Officer Candidate School and Naval Aviation Pilot Flight School. 
He served in U.S. Navy Patrol Squadron ONE as a Pilot, including three combat tours to the Republic of South Vietnam; his awards include (2) Air Medals, (2) Navy Meritorious Unit Commendations.   He worked as a domestic and international Delta Captain 1972-2003 and conducted Civil Reserve Air Fleet operations transporting military personnel and mail into and out of Kuwait City and Bahrain 2002-2003.
He directed the Atlanta ministry, Fellowship of Christian Airline Personnel., and organized and led numerous mission trips to Rancho el Paraiso, San Martin, Oloncho Province, Honduras. He also organized and led numerous mission trips to Havana and Pinar del Rio, Cuba, and worked with Mission education and relief organization during a ten-day trip to Ethiopia He was employed as a Volunteer Juvenile Probation Officer, Gwinnett County, Coweta County, Georgia, 1973-1996
He has been a Blue and Gold Officer, United States Naval Academy, Annapolis, MD 2005-2021He serves on the Board of Directors for Solar Ice, Inc, Shenandoah, GA; Hearts of Love, Inc, Texas; Peace of Thread, Inc, Atlanta; the State of Maryland, Charlotte Hall Veterans Retirement Home Board; Georgia State Association of Gifted Education (part of Georgia Department of Education), and on the Board of Operation Not Forgotten.