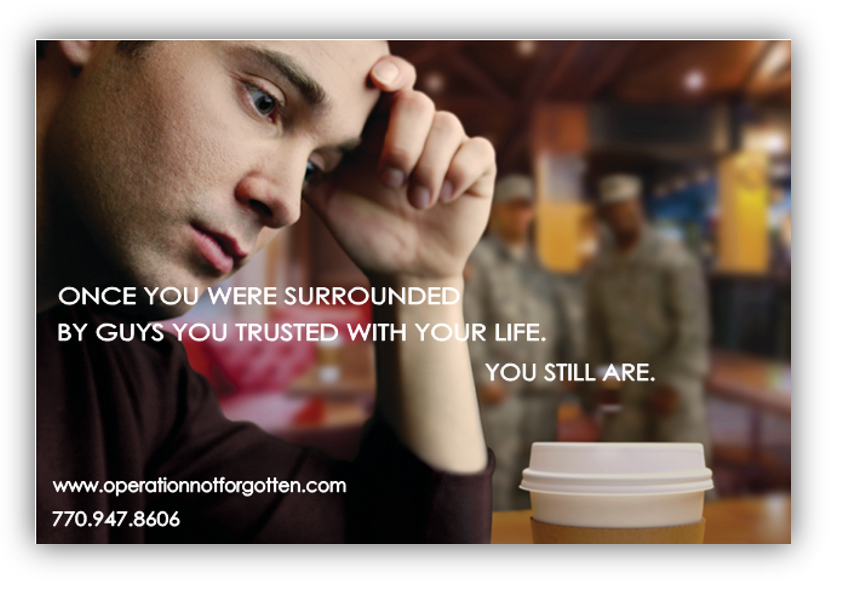 WHO WE ARE
The mission of Operation Not Forgotten (ONF) is to provide services that support the well-being of veterans and their families. We connect them with other veterans -- buddies they can trust and relate with to coach them through any difficulties. Our purpose is to measurably enhance and improve a veteran's quality of life and functioning in four areas: mental, emotional, social, and spiritual. We are a 501(c)(3) non-profit, all-volunteer organization.
Under the umbrella of Operation Not Forgotten, we are implementing Vet Life Community.  Vet Life Community is a network of local support meetings - veterans helping veterans face to face - offering the Quality Of Life Assessment (QOLA) to assess current levels of functioning and determine what, if any, help veterans may need as they transition back into life outside the military. 
Through our  Vet Life Communities, we are changing the way veterans and their families are helped.
If you are interested in finding out how to start a Vet Life Community in your Town or City, CLICK HERE  and fill out an application ... OR just spend some time on our site getting to know us.  CLICK HERE FOR A BROCHURE.   
GUIDESTAR / PLATINUM LEVEL: https://www.guidestar.org/profile/06-1816989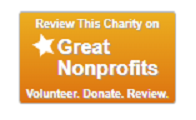 Please click the thumbnail to the left to see us on Great Nonprofits
ABOUT THE PROGRAM
What is a Vet Life Community?

How Are Meetings Conducted?  Vet Life Communities have three separate support groups: one for males, one for females, and another for family members or others who play a significant role in the life of the veteran. We feel it is essential to make these groups distinct because the issues for each are different. It is important to mention our strict adherence to anonymity and confidentiality; discussions and topics do not leave the room. Additionally, there are options to meet in-person, virtually, ar a hybrid of both types of meetings. (please see "Start a Vet Life Community")
All meetings are veteran-run and maintained.  Our organization's mission is to provide programs for veterans and their families that develop mental, social, emotional, and spiritual well-being. These groups will use the Vet Life Step By Step Handbook and other materials, and each participant will be offered the opportunity to take an online Quality of Life Assessment™ and work with a life coach, both at no cost. This assessment will not only give an initial baseline for the current level of functioning but will also help to determine the appropriate course of action. The QOLA (Quality of Life Assessment™) and life coaching are optional and self-directed by the veteran. Meetings are free for all participating veterans and their loved ones.
 
Another important aspect of Operation Not Forgotten Vet Life Communities is the renewed sense of brotherhood/sisterhood that veterans felt when they were in the military.   Vet Life Community is a place where veterans can meet other veterans and form new friendships with people who really understand; people who have "been there". Community members often get together for Sunday afternoon ball games, camping, televised sports, or even just a cup of coffee at a local coffee shop.  Families can come together for backyard cookouts, or barbeques, hiking excursions, trips to the beach, or just sharing a meal … The important thing is there is someone there for veterans to reach out to; a buddy to "have our six" – a place to find support … a Vet Life Community.
Vet Life Community is designed to create a confidential, community-based meeting place to help veterans and their families.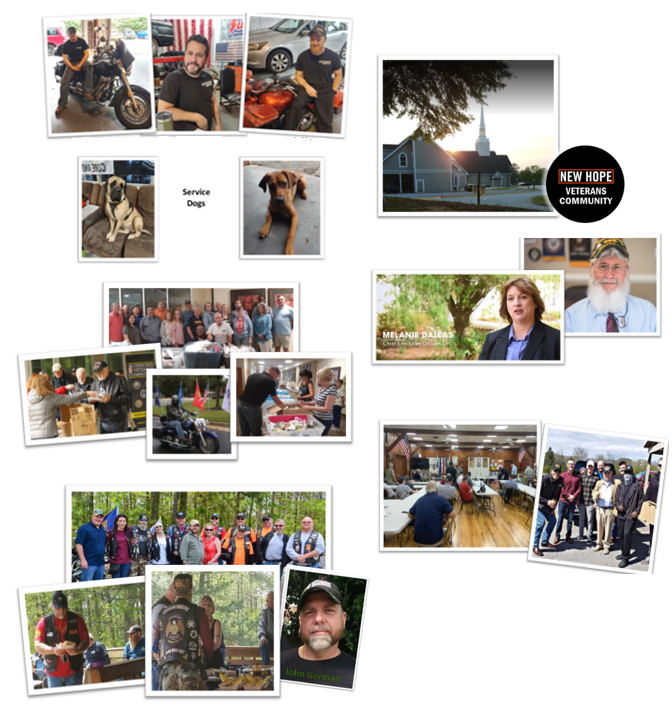 Why Does This Method Work?
 Veterans often find themselves on their own to manage complex factors for behavioral change. Peer support and sharing experiences can link people and provide the practical, emotional, and ongoing support that is critical for genuine change. Peer support is proven to sustain long-term behavioral change. Veterans trust other veterans. The format and structure of the group means it can be easily replicated in communities across the country
VET LIFE COMMUNITY STEP BY STEP JOURNALS AND REGULARLY SCHEDULED MEETINGS
Our Vet Life Communities use carefully constructed Step By Step Journals that guide veterans and their families and bring healing in personal issues and to relationships. We have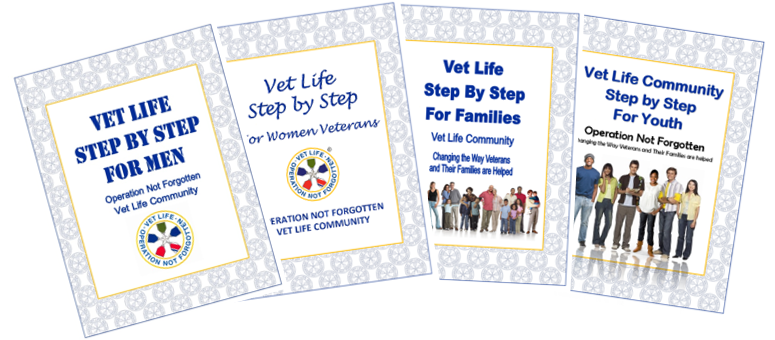 separate Journals (and meetings) for male veterans, female veterans, family members, and youth.
The program can be done in two different ways.  Both methods can be used simultaneously in the same Vet Life Community:
1) A veteran can work through the Step By Step Journal while attending weekly meetings. OR
2) A veteran can attend meetings while working through the Step By Step Journal with a Life Coach. In this case, the Quality of Life Assessment ™ (QOLA) will provide the veteran with feedback, and help them set and achieve goals. Additionally, they will have an opportunity to talk to their coach and receive face-to-face mentoring.
ABOUT THE QUALITY OF LIFE ASSESSMENT AND PERSONAL PROFILE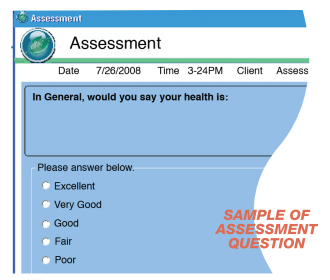 Our Quality Of Life Assessment (QOLA) Profile offers veterans and their families eye-opening insight into their situations, and motives and empowers them to move forward to secure a positive and fulfilling quality of life.
The QOLA is not a psychological evaluation. It is an accurate measurement of how well you and your loved ones are meeting the challenges you face each day.  It is a profile of your quality of life covering a wide variety of dynamics from everyday life to the most traumatic experiences.
Completely Confidential  ●   Assesses Real-Time Functioning  ●   Comprehensive, Completely Personalized ● Takes Only 20 Minutes  ● Multiple choice questions ●  For All Veterans and Loved Ones Over 18. 
TO TAKE A FREE QOLA SAMPLE, CLICK HERE AND COMPLETE THE APPLICATION.
ABOUT MAPS LIFE COACHING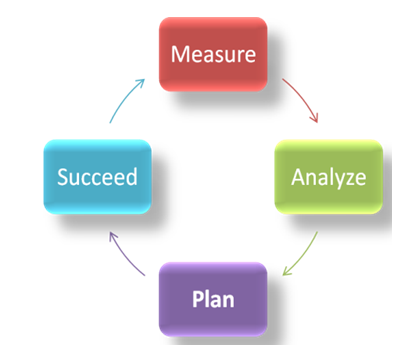 Life Renewed MAPS™ (Measure, Analyze, Plan, Succeed) is a planning process that coaches a person into positive behavioral changes.
Our Life Coach Training is free.  The Life Coach uses the assessment profile to guide the veteran or family member in developing a Life Map, or plan, with specific goals and steps designed to build a successful life.  The participant works to complete one goal at a time.
WHAT IS VET LIFE MISSION
Vet Life Mission offers veterans and their families an apartment with all utilities and appliances included.
VET LIFE MISSION 2022 - Eric, Ashley, and their children get a new home, completely furnished!  Operation Not Forgotten, Home Depot, Woodstock Furniture, and West Metro Church ... and many companies and individual volunteers made this possible. VIDEO: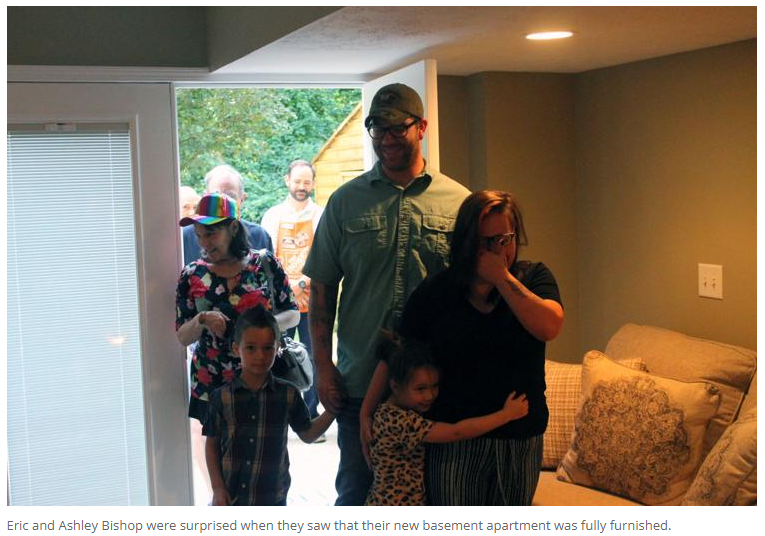 Please use the link below to read the compelling story of a young female veteran who found herself homeless, and how Vet Life Mission made a difference to her and her son.  (Name of veteran changed to ensure privacy.)
WHY WE DO WHAT WE DO
The Problem:  Critical Veteran Health Care Issues Facing Our Nation are Unacceptable
Fact: One in three returning troops from the war zones are being diagnosed with serious Post Traumatic Stress symptoms − and less than 40% will receive help (PTSD Foundation of America, 2013).  It is an established fact that approximately 76% of all veterans never see the inside of a VA Medical Center or VA Clinic because most are reluctant to admit difficulties or communicate their pain for fear it may be perceived as weakness by family members, buddies, friends and co-workers− and many fear the potential label or stigma of mental illness.
Fact: For troops suffering from combat trauma two out of three of their marriages are failing. Veteran homelessness is on the rise with 1/3 of our nation's homeless being veterans (PTSD Foundation of America, 2013). On any given night, there are over 100,000 veterans homeless.
Fact: The most extensive study yet by the U.S. government on suicide among military veterans shows more veterans are killing themselves than previously thought, with 22 deaths a day - or one every 65 minutes, on average (Department of Veteran Affairs, Washington DC, 2013). More veterans are dying by suicide than in combat.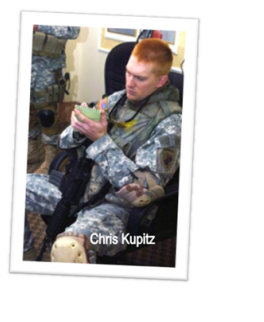 Fact Estimates based on a survey of active-duty personnel revealed that 78% of women had experienced sexual harassment and 6% had experienced rape or completed rape (compared to rates of 38% and 1% for men, respectively. (Skinner, K. M., Kressin, N., Frayne, S., Tripp, T. J., Hankin, C. S., Miller, D. R., et al. (2000). The prevalence of military sexual assault among female Veterans' Administration outpatients. Journal of Interpersonal Violence, 15(3), 289-304.)
Chris Kupitz, President of the Veterans Club at Vanguard University, served the US Army for eight years, experienced two Iraq deployments, and reached the rank of E-6, Staff Sergeant.  After returning home Kupitz experienced the harsh realities that face many veterans, "Our soldiers are returning home broken, confused, frustrated, angry, and unable to fully comprehend or cope with the residual torment of a war zone they survived. What we need is to provide our veterans with a caring, safe environment, that allows them to process everything they have endured; a place that believes in their future supports their needs, and is actively pursuing them before they become another statistic"
Our veterans have put themselves in harm's way and paid the ultimate price to protect the freedoms we enjoy.  We have made it our mission to stand beside them and support them by developing a network of community support groups that provide access to appropriate, quality services and care.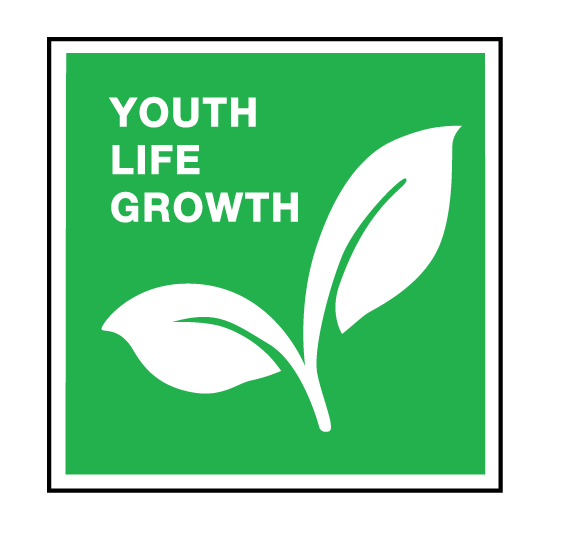 ABOUT THE VET LIFE COMMUNITY YOUTH PROGRAM
The mission of the Vet Life Community Youth Program is to provide a safe environment where the children of veterans are given the opportunity, through peer group support and creative activities, to learn techniques to help reduce trauma, release pent-up emotions and learn new behaviors.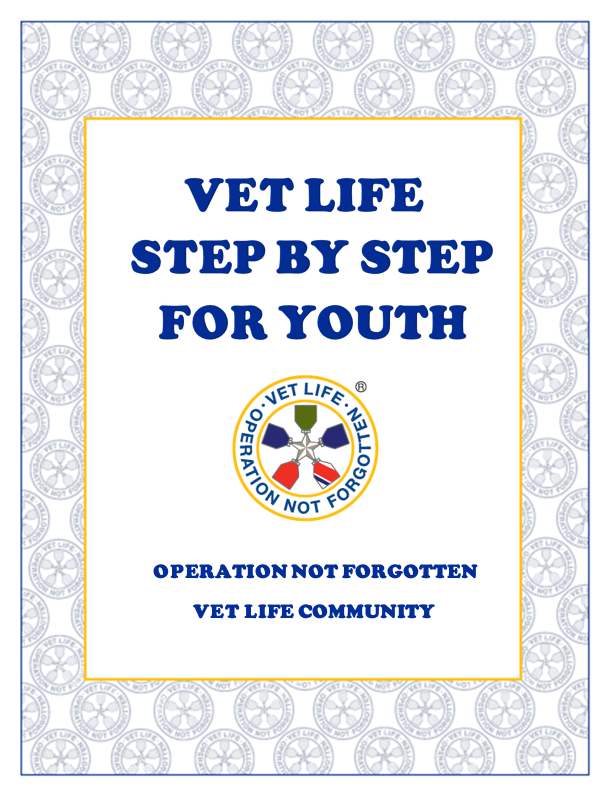 How Does the Vet Life Step By Step for Youth Work?
As with most Twelve Step Programs, Step By Step for Youth offers a social context with peers and competent adults that cultivate communication. It allows adolescents to be part of a healthy peer group as they move toward shared goals. While communication centers on the commonly shared themes of family challenges created by war and post-war experiences, groups will also facilitate the communication of other important adolescent themes.
The Vet Life Community Youth Program is not group therapy. Rather it is a process whereby youth are encouraged to take responsibility for themselves and their behavior by engaging in a creative process that utilizes elements of creative arts, a twelve-step program, and interactions with their peers. The program is youth-driven and youth-centered. Just as there are Youth Program Directors to lead and supervise the process, youth may also serve as peer mentors.
 Many adolescent issues of veteran families have not been previously addressed. Vet Life Step By Step for Youth will give participants the opportunity to do important developmental work while addressing the unique issues within their families. They will also be given the opportunity to practice their newly acquired, healthier behavior with their peers and other adults.
One of the essential elements that encourage the success of the group involves the development of leadership skills and a mentoring process. While the group provides structure and rules that protect the confidentiality of its members, there are also requirements that group members demonstrate a respectful, caring and supportive attitude toward themselves and others.
As the group evolves, they will explore their own behavioral patterns and gain insight into their family and peer relationships. They will also learn to problem solve and better cope with situations. Through the use of adolescent games and creative activities, they will learn to express themselves in new, more positive ways. Their self-esteem will increase as they share their artistic abilities in art, music, drama or other chosen activities.
Building a relationship is the core value that should be inherent in every program. In order to be effective, adult volunteers must first build trust relationships with the youth. As with any relationship, trust develops slowly.
The Vet Community Youth Program is about discovering strength and resiliency in a world wrought with uncertainty. It's about acceptance, connecting and healing. In spite of their reluctance to accept such titles, most veterans are considered heroes by the rest of us. Seldom are the families or kids recognized for their sacrifices and hardships, and some of these young people are heroes in its truest sense."
The Life Renewed™ Operation Not Forgotten™ Program and the results of its computer-generated Quality of Life Assessment™ software analyses are not substitutes for professional clinical or medical advice, diagnosis, or treatment.  Participants in the program and those reviewing the results associated with it, therefore, should always consult with a doctor or other health care professional for medical advice or information about diagnosis and treatment. Neither Life Renewed™ nor any other party involved in creating, producing, or delivering the Operation Not Forgotten™ program shall be liable for any damages, including without limitation, direct, incidental, consequential, indirect, or punitive damages, arising out of failure to consult health care professionals.