Board Adviser - Charles Lamb Founder and Owner of Happy Hawg BBQ in Hiram, Georgia has two goals: providing good food and being a part of good community engagement. Since starting his restaurant, Happy Hawg BBQ, he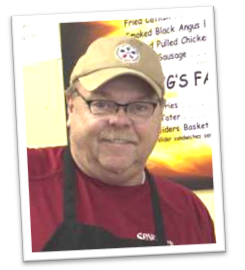 has succeeded in both of those endeavors.
"It's not just about the food, it's about being a part of what makes my community great," says Charles. "We deliver food to schools, churches and businesses. Just recently we fed evacuees in the area from Hurricane Matthew". Helping people is what [Lamb] has done from the very beginning. Now he has partnered with Operation Not Forgotten to support veterans and their families.
It appears the Hiram community, in large part, loves Happy Hawg BBQ right back. On any given weekday, groups of customers come in calling out to Lamb and other employees by name while walking to their favorite booth or table. Lamb said he sees many repeat customers that dine at the restaurant a few times a week.