The mission of the Vet Life Community Youth Program is to provide a safe environment where the children of veterans are given the opportunity, through peer group support and creative activities, to learn techniques to help reduce trauma, release pent-up emotions and learn new behaviors.

For Youth Leader Resources Click Here
Click here for Parent Orientation Video, Youth Application, and Parent Permission form.

How Does the Vet Life Step By Step for Youth Work?
As with most Twelve Step Programs, Step By Step for Youth offers a social context with peers and competent adults that cultivate communication. It allows adolescents to be part of a healthy peer group as they move toward shared goals. While communication centers on the commonly shared themes of family challenges created by war and post-war experiences, groups will also facilitate the communication of other important adolescent themes.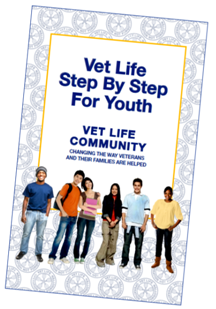 The Vet Life Community Youth Program is not group therapy. Rather it is a process whereby youth are encouraged to take responsibility for themselves and their behavior by engaging in a creative process that utilizes elements of creative arts, a twelve step program and interactions with their peers. The program is youth driven and youth centered. Just as there are Youth Program Directors to lead and supervise the process, youth may also serve as peer mentors.
Many adolescent issues of veteran families have not been previously addressed. Vet Life Step By Step for Youth will give participants the opportunity to do important developmental work while addressing the unique issues within their families. They will also be given the opportunity to practice their newly acquired, healthier behavior with their peers and other adults.
One of the essential elements that encourages the success of the group involves the development of leadership skills and a mentoring process. While the group provides structure and rules that protect the confidentiality of its members, there are also requirements that group members demonstrate a respectful, caring and supportive attitude toward themselves and others.
As the group evolves, they will explore their own behavioral patterns and gain insight into their family and peer relationships. They will also learn to problem solve and better cope with situations. Through the use of adolescent games and creative activities, they will learn to express themselves in new, more positive ways. Their self-esteem will increase as they share their artistic abilities in art, music, drama or other chosen activities.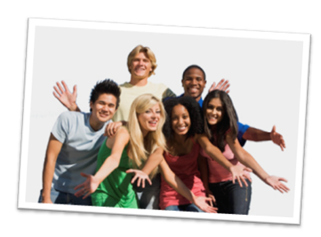 Building relationship is the core value that should be inherent in every program. In order to be effective, adult volunteers must first build trust relationships with the youth. As with any relationship, trust develops slowly.

The Vet Community Youth Program is about discovering strength and resiliency in a world wrought with uncertainty. It's about acceptance, connecting and healing. In spite of their reluctance to accept such titles, most veterans are considered heroes by the rest of us. Seldom are the families or kids recognized for their sacrifices and hardships, and some of these young people are heroes in its truest sense."
Share